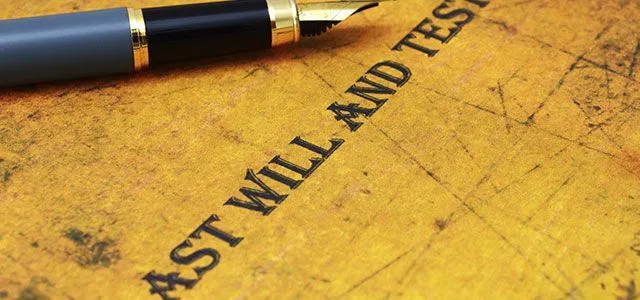 Experienced Somerset Attorney Provides Will and Probate Services
Skilled will drafting to ensure your intentions are followed
The most common method for transferring assets to your beneficiaries is a last will and testament. But this document is more than an assignment of assets to heirs — it is your last expression of affection to the people dearest to you. Matthew R. Zatko, Attorney at Law believes that every adult regardless of their economic status should have a will. I draw on more than 15 years of estate planning experience to draft sound wills that truly reflect your intentions, in practical language so your wishes are clear and easy to implement. When loved ones pass, I am able to help get wills validated in the probate court and guide the estate through the probate process toward an easy, cost-effective resolution.
Executing a valid will in Pennsylvania
According to § 2502 of the Pennsylvania Consolidated Statutes, a will must be "written and signed by the testator" to be valid in the commonwealth. However, any words following the signature cannot be used to invalidate any previous part of the will. A will need not be witnessed to be valid unless the testator makes a signature by mark instead of signing his name or another person signs his name. In such cases, two witnesses must sign. A will also is valid in Pennsylvania if it was validly executed under the laws of another state when the testator lived there.
These minimum requirements might give you the impression that drafting a will is too easy to bother a lawyer about. While do-it-yourself wills can be downloaded from a number of websites, they don't offer the protections that a specific will drafted by a legal professional can. Without an attorney's advice and counsel, you could make a mistake that frustrates your heirs and causes waste, expense and delay. Common problems with DIY wills include:
Impractical executor — A testator must choose a trusted individual to carry out the provisions of the will. But many DIY testators choose executors without really knowing what the job requires and whether their chosen representative has the time, ability, or interest in assuming the role.
Mismanagement of gifts to pets — Pet owners want their beloved animals to be cared for, but leaving money directly to a pet is not the way to make that happen.
Unclear conditions —The language of a will must be specific so an executor and a court can determine what must be done and so beneficiaries have clear expectations. Confusion in the will leads to costly legal battles and delays.
Unclear beneficiaries — You may know exactly whom you mean by "my pal, Bob," but will your executor know? Wills must contain as much precise identifying information as possible to avoid confusion.
Contradictory terms — If your will leaves insurance proceeds to one person but your policy names someone else entirely, a court challenge is sure to follow.
Partial intestacy — If you do not account for all your property in your will, whatever it fails to cover passes according to the commonwealth's laws of inheritance. This could result in some beneficiaries getting more than you intended while others are left out entirely.
Condition impossible to fulfill — What happens when property is supposed to go to a beneficiary who has already died? What if you promise a piece of property to an heir, but you no longer own that property when you die? These problems are not unique to DIY wills, but DIY wills are more likely to be drafted and stuffed in a drawer, not to be seen again until the testator dies. When you hire me to draft your will, you can trust me to check in periodically to review your document and see if changed circumstances require amending any bequests.
Your will is too important to risk making a mistake. Trust your will only to a knowledgeable estate planning attorney so that your assets are preserved and protected for your beneficiaries.
Shepherding your loved one's estate through probate
When a loved one passes, a representative presents the will to the probate court for validation. The court then contacts the named executor to see if he or she can take on the tasks of settling the estate. If not, the court can appoint an executor. The executor's duties include:
Paying the estate's creditors
Collecting from the estate's debtors
Paying taxes owed by the estate
Identifying and contacting beneficiaries
Identifying and locating estate assets
Transferring estate assets to beneficiaries
Litigating disputes in the probate court
Closing the estate
Depending on the size of the estate, this can be a daunting task. I provide guidance for executors throughout every stage of the probate process. I also represent executors and beneficiaries in probate court litigation, including challenges to the will.
Contact an experienced attorney to draft and review your will and assist with probate
Have you spoken to an attorney about the best methods for protecting your loved ones? What about securing your retirement?  Matthew R. Zatko, Attorney at Law is prepared with the answers you need. Call today at 814-483-7075 or contact me online to schedule a consultation.